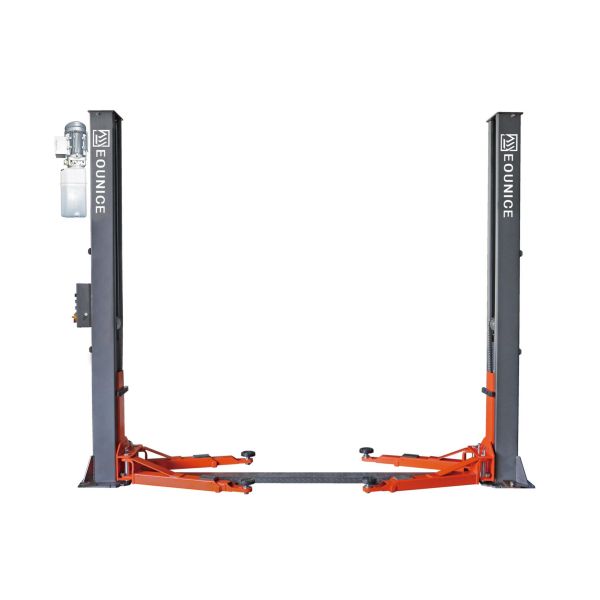 ON-7224E Base Plate Two Post Lift
4,200KG(9300LBS)/4,500KG(10,000LBS)
Electrical release and dual chain drive cylinders.
4,200Kg (9,300LBS.) lifting capacity.

1920mm (75 9/16") lifting height suitable for various operators.

Electrical lock release with APS technical,24volt operation.

Durable chain drive cylinder in each column carries with anti-surge valves.

Standard with 4 two-stage lifting arms.

Screw-up rubber pads with min height 95mm (3 3/4").

Standard with high limit switch.

Standard with curtain inside column and foot guard.

Automatic arms restraints.

Professional powder coating.

CE Certificated.
TECHNICAL DATA:
Model
                                                        7224E
Lifting Capacity
4,200kgs (9,300LBS)
4,500kgs (10,000LBS)
Lifting Height
1920mm (75 9/16")
1920mm (75 9/16")
Lifting Time
55S
55S
Overall Height
2824mm (111 3/16")
2824mm (111 3/16")
Minimum Height
95mm   (3 3 /4")
95mm   (3 3 /4")
Overall Width
3410mm (134 1/4")
3410mm (134 1/4")
Width inside Columns
2850mm (112 1/4")
2850mm (112 1/4")
Motor Power
2.2KW (3HP)
2.2KW (3HP)
Shipping Weight
628kgs (1,385LBS)
658kgs (1,451LBS)
OVERALL DEMENSION: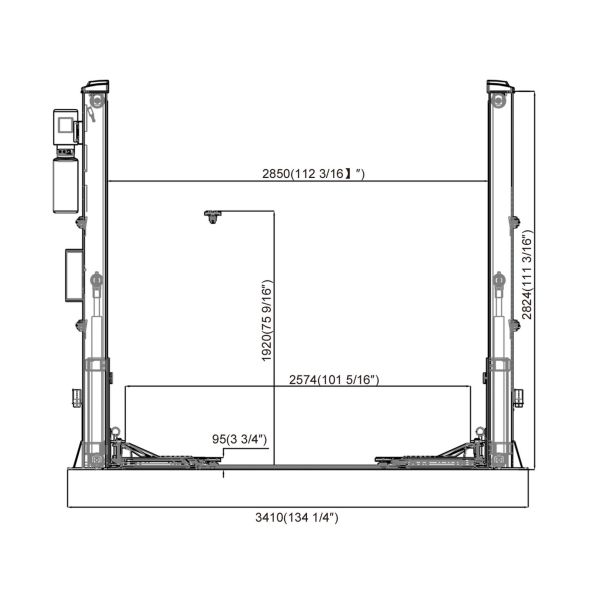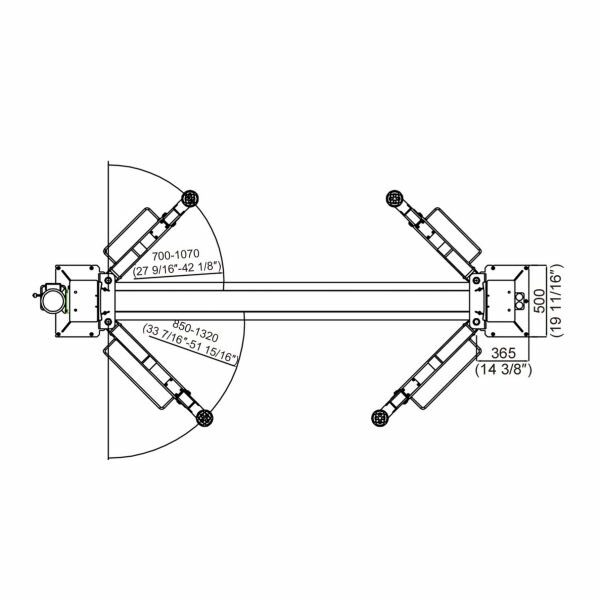 OEM/ODM service can be offered
Lift color can be offered as customer request.
Optional three-stages lifting arms.
Optional 70mm(2 3/4") and 100mm(3 15/16") extension adapters.
The adapter is ultra-thin design, the minimum height from the ground is 95mm(3 3/4"), which is more suitable for the maintenance and lifting work of low-chassis vehicles.
The cover plate is ultra-thin design, the height from the ground is only 33mm(1 5/16"), the vehicle is easier to pass;
The inner pulley of the column is installed on the side of the oil cylinder. Even if the retaining ring falls off, the oil cylinder is only 10mm(3/8") from the shaft end, which can effectively prevent the pulley from coming out.
The main structural parts are welded by robot with good welding consistency, high strength and beautiful welding seam.
Structural parts are sprayed with imported powder, using imported spraying equipment spraying, high temperature curing, can ensure strong adhesion, bright color and beautiful.
Get Instant Quote in 24 Hours
Whether you need your lifts to be mobile, high-cycle, automated, or particularly sized and configured, Eounice has the most customizable capabilities to craft the right lift for you with best accuracy and performance. Benefit from:

35,000m² Vehicle lift production workshop.

Skillful technical research more than 5 years.

ISO 9001 quality management system certificated and CE approved by European Union.

Over 50 automatic production line equipments.

Professional Vehicle Lift Solutions.